Activate Sport training accredited by IIRSM
Dom Taylor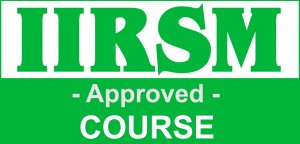 We are proud to announce that our bespoke training programme for Activate Sport staff has been accredited by IIRSM.
The International Institute of Risk and Safety Management (IIRSM) was established in 1975 as a professional body for health and safety practitioners. It was created to advance professional standards in accident prevention and occupational health throughout the world.
Over the last three decades IIRSM has grown from a collective group of UK health and safety professionals to a thriving International Institute spanning over 70 countries.
Barry Holt from IIRSM says "IIRSM has reviewed the online training programme developed by Activate Sport and we can confirm that the programme meets the criteria to gain approval. The approval process considers not only the scope of the material but also its quality as well as the systems which are in place for providing staff training and periodic review of the material."
In review of Activate Sports online training, Barry commented on the thorough nature and strong delivery of a safe course and learning environment. At Activate Sport, we are very proud to be leading the way in the industry and are dedicated to the safety of our participants, without detracting from the positive experience and learning from our courses.