Multi Activity Camps are for active children aged 5-14 years who want to have fun during the school holidays!
Our Multi Activity Camps are designed as active camps for active children.
Throughout the camp, children will compete in the 'Activate Games' which finishes with the final day Activate Games Tournament. On arrival, children are organised into teams, ready for friendly competition.
During the camp, participants have the opportunity to earn points for their teams by being at their BEST, taking on challenges with enthusiasm, and achieving sporting milestones.​ Every camp is packed full of a combination of sports, activity, crafts, games, and challenges.
All points contribute to the overall standings, building anticipation for the thrilling Activate Games Tournament on the final day. The tournament is the ultimate showdown where teams showcase their skills, teamwork, and sportsmanship in challenges and games. The team with the most points at the end of the tournament is crowned the Activate Games Champions!
Camps can be booked for 3-day passes or full weeks including extended hours.
All our venues are registered with Ofsted and regular unannounced inspections ensure that we always maintain high standards.
The perfect option for active kids and busy parents.
Multi Activity Camps feature a wide variety of sports, activities, challenges and creative sessions including:
SkateboardingScooteringBenchballRiverbankCapture the flagArcheryCrazy golfRob the nestParachute gamesScavenger hunt
FootballKwick cricketUni hocPop lacrosseKho-KhoKabbadiTag rugbyGagaballDodgeballBasketballDanish Longball
Egg dropCross the riverSpaghetti towerRelay racesCross the bridgeCrazy Catch
Flag designTeam songSkateboard designTeam banners
Every single day of a Multi Activity Camp is different!
MULTI ACTIVITY CAMP STAFF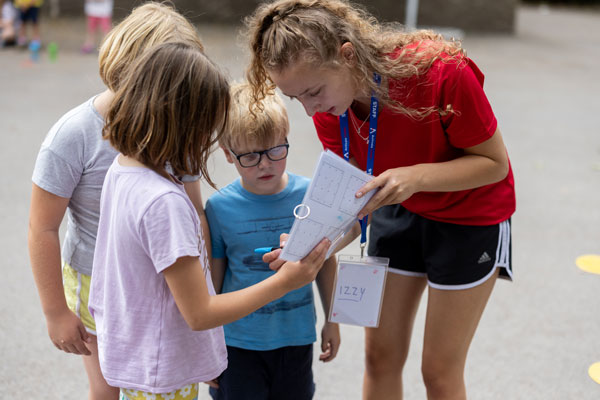 Activate Camps staff are passionate about children leading a healthy lifestyle through sport and activities.
Our energetic and engaging staff, along with our wide selection of activities keep children inspired, smiling and engaged throughout the camp. All staff are DBS checked and complete our IIRSM accredited training programme, which has a particular emphasis on risk management and pastoral care.
We have trained managers at every site who come from a variety of backgrounds. We actively recruit primary school teachers, PGCE students, childcare professionals and highly qualified sports and activity staff in order to ensure that our camps are as safe and effective as possible and that we exceed the high standards set and expected by Ofsted.
All of our staff are DBS checked and have completed our own comprehensive recruitment and training to ensure we get the best staff to enthuse your children this holiday!