The Coniston Challenge
Tom Swainston
We're now recruiting teams for the 2015 Coniston Challenge!
Team of six will attempt to walk up (and down) the Old Man of Coniston, followed by a quick 17 mile bike ride around Lake Coniston, finishing off with a canoe across the lake!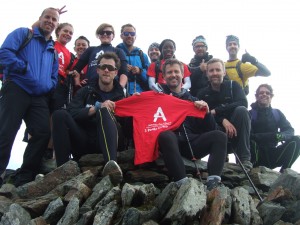 You team of six will split into pairs, with each couple starting with a different challenge, once everyone has completed the three challenges your times will be added together to see which team of six has completed the activities the quickest.
The Coniston Challenge costs £300 per person, this includes;
Travel up to the Lake District on Thursday 24th September
Overnight accommodation, evening meal and breakfast.
Hire of bike and canoe
Travel back to Birmingham.
The coach will leave from Birmingham International Station and stop off to collect participants from Dunston Business Village and Knutsford Services.
£200 of the cost goes to support the Activate Sport Foundation, giving young people sporting opportunities throughout the UK. If you want to pay £100 and fundraise for the other £200, please contact Tom Swainston who will help you set up a Just Giving Page.
For more information email tom.swainston@activatesport.co.uk or call 01785 711572