Our Activate years….
Oliver Uffindal
Victor Martinez Guija has been attending Activate Camps for several years with his younger brothers. His family have travelled from Spain for the past 5 summers to holiday, travel and most importantly – take part in Activate Camps! Here he tells us his story from hist first camp to his first camp as a coach…
Activate Camps
It all began a few years ago, when my parents decided to travel to England so that we could enjoy travelling as a family, improving our English and have fun doing some sports in summer camps. This became our annual routine.
Activate Sport camps, for me have been an overwhelming experience, which I have looked forward to repeating ever since I first went at the age of 12. It is not just about their enjoyable camps, but for the tremendously healthy environment they create due to the high standard qualified coaches and their personalities. There have been some long years waiting for our two week holiday with my family in the UK. I would look forward to enjoying another year with my family abroad, weekdays on the camp, and on the weekends exploring England's wonders.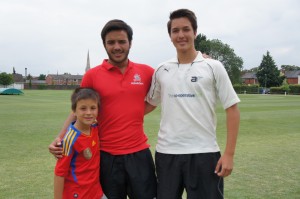 All I have learnt from coaching is thanks to the Activate coaches. In fact, after 5 years as a child and applying for my own qualifications as I grew up I finally worked this summer as an assistant coach and I was lucky enough to now be the one who the children followed and looked up to. Sportsmanship, manners, respect, are all integral values taught by chosen coaches from Activate Sport. In addition, what I felt most this year was the switch of roles and having now to face a group of children. It was an amazing moment and throughout the summer in the different camps, I have completed the role with enthusiasm. In fact, an emotional situation was on my first week when I had my youngest brother Juan Pablo in front of me with his new friends on the camp.
Previous years:
The plan was that my brother Alvaro and I would spend a week on a camp with plenty of sport in it while my parents and my little brother, who by at this time was just 3 years old, would go and visit England's wonders such as the Cotswold's, Palaces, Castles and prehistoric monuments. We would join our family on the weekends in between our Activate camps.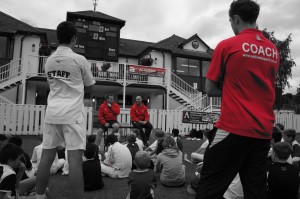 We have been to many places around England, always looking for somewhere to rest and enjoy the camps. We first attended Bloxham School, then Hereford, then the following year we went to Oundle and finally for the last two summers we have attended camps at RGS Worcester.
Bloxham School: This was our first experience with Activate Sport, I was 12 and my brother Alvaro, 9. We went first to a Multi Sport and Activity Camp and I can still remember my coach, Tom Swainston, he really motivated the camp and was a real figure to follow. Our English was a work in progress but our enthusiasm was outstanding, everyone enjoyed the camp. The following week we went to the Andrew Flintoff Cricket Academy, that was definitely our first introduction to the sport, we had an amazing time, met a lot of people and we even bought a cricket kit to practice back in Spain.
Hereford Cathedral: Back to England again and after an amazing experience of the previous year we were looking forward to another one of a similar standard. I was completing my first Sport Leadership award. We wanted to repeat similar activities from the previous year; therefore we went to the Multi Sport and Activity camp and to the Andrew Flintoff Cricket Academy. Again our experience was great I made friends who I am still in contact with today. That's wonderful!!!! On the weekends I can remember going to visit Stonehenge and places that I really loved.
Oundle: Our summers now had become routine, this, our third year in the UK with Activate Camps and having a great time with my family. I must say, the Oundle School facilities really impressed me, it was massive!!! I went as an Activate Leader to the Multi Sport and Activity Camp and to the Andrew Flintoff Cricket Academy. My experience as a leader was my first opportunity to demonstrate my coaching skill and how good or bad I was with it! Every time I remember Oundle I do it quite happily and with enthusiasm because it was my first big step in the process of coaching.
Worcester: This was our best year with Activate Camps, in fact we loved it so much we returned for a second summer in 2015. We stayed in a cottage on the outskirts of Worcester. We went to a Multi Sport and Activity Camp and again to AFCA. This year I came as a volunteer, I got evaluated by the Camp Manager, who was also Head of PE at a school in Birmingham, Amanda Uffindall and as a result I got the level 2 Activate Leaders. The following year (this year), I finally achieved my goal that I set out to do, to be a coach. I contacted Activate and they gave me a job as an assistant coach at several camps. The first one was the AFCA in Worcester, I met Amanda again and it was on this camp I coached my little brother Juan Pablo!!! The second one was the Louis Smith Gymnastic Camp which was really enjoyable assisting the experience gym coaches. Finally I went to Wycliffe College in Gloucestershire, where the coaches were new to me and of such a high standard that I felt I needed to lift my performance to prove myself to them.
To sum up my time with Activate Camps, what I am most pleased to be able to do is to help teach/coach children what I have been taught by fellow coaches over the previous years. This is quite an overwhelming experience that I recommend to anyone who likes coaching.
Victor Martinez Guija.