Every day is different on a Multi Activity Camp.
Our Multi Activity Camps cater for children of all ages, abilities and interests. The sessions and timetables have been designed to offer a wide range of sports, games, activities, challenges and creative sessions during the week. Sessions are all carefully planned with multiple variations to suit the developmental stage of every age group.
The majority of sessions are delivered in age groupings to ensure every child is in a safe and enjoyable session environment. When suitable, we bring the camp together the deliver team challenges and the Activate Games.
SPORT – ACTIVITIES – CHALLENGES – CREATIVE
Step in to the world of sport on our Multi Activity Camps. We offer a variety of sports and games from around the globe to help children learn new skills, develop their existing ability and enjoy physical activity.
Many of our activities are still very active, encouraging children to engage in physical activity.
Team challenges really bring our Multi Activity Camps to life. Children work together to attempt a variety of challenges and earn points for their team, in the hope of winning the Activate Games at the end of the week.
Getting creative on camp is easy, whether it's during the team challenges where thinking outside the box is encouraged or during our arts & crafts sessions. Our arts & crafts sessions focus on allowing the children to explore their creative side, rather than copying a step by step process.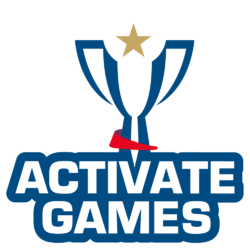 During the camp, children are placed in to teams where they can earn points throughout the week for being at their BEST and their performances during sessions. At the end of the week, the teams will compete in the Activate Games through a series of challenges, sports and games to earn more points and see who is crowned the Activate Games Champions!
We encourage all teams (and their coaches) to wear team colours on the final day. It is a great finale to the week and encourages across age teamwork throughout the camp.
Activate Games are a great opportunity for children to work together and engage with children from different age groups.